VASP: The regulation of cryptocurrencies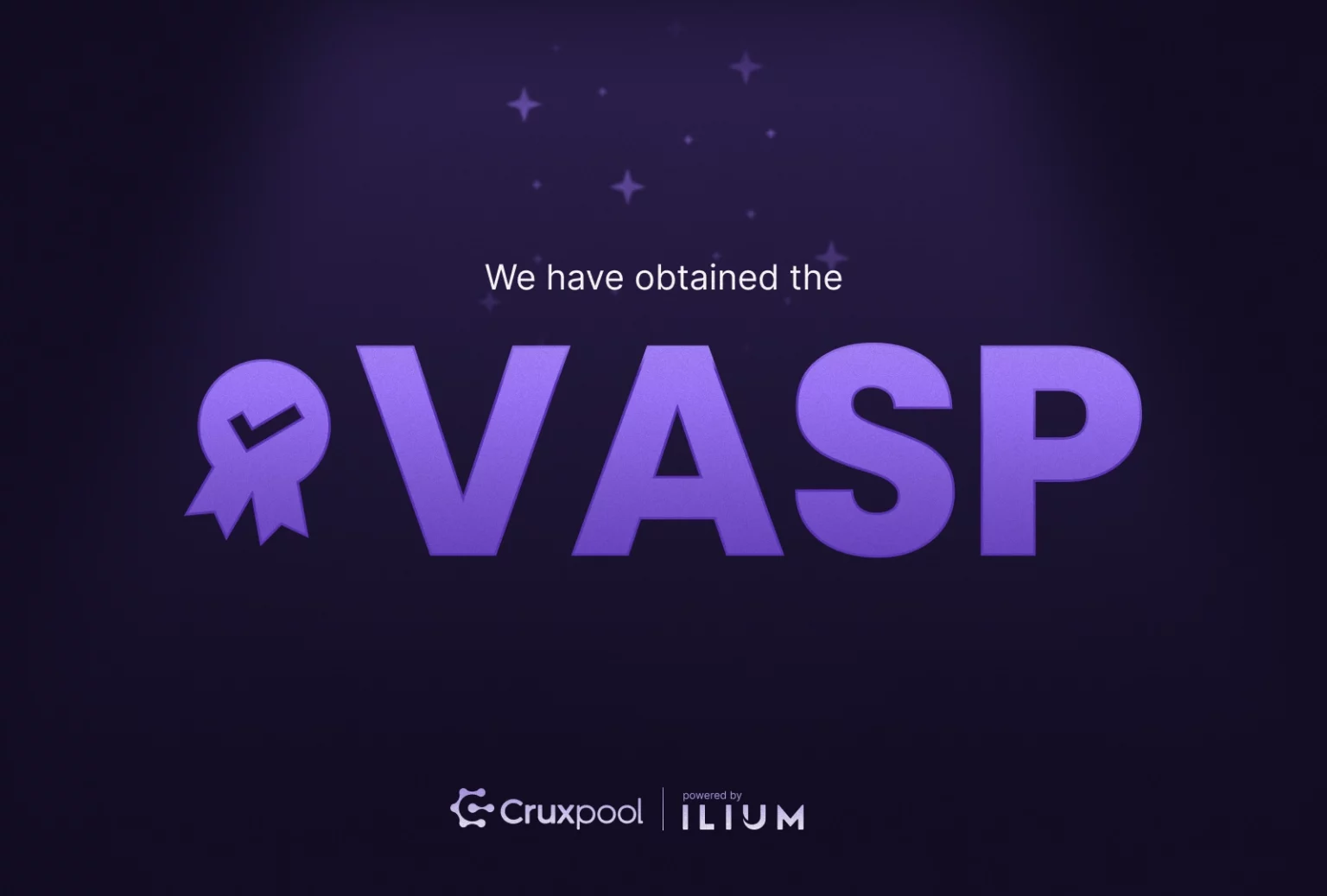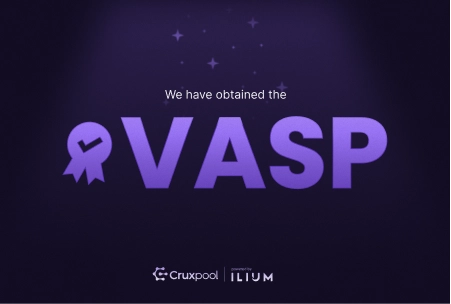 It is official! Our company Ilium, of which the Cruxpool project is a part, has just obtained its registration (n°E2022-48) as PSAN (Prestataire de Services sur Actifs Numériques in French) from the French AMF (Autorité des Marchés Financiers). In this article, we talk about VASP (Virtual Asset Service Provider) registration in English to refer to PSAN in French.
The adoption of cryptocurrencies is growing all over the world. There are many institutions and individuals who are investing in cryptocurrencies. Countries like France have chosen to regulate cryptocurrencies, hence the emergence of the VASP registration issued by the AMF.
The VASP registration attests to our desire to provide our users with a healthy, secure and quality environment while accompanying those who trust us in the revolution started by the blockchain ecosystem.
But what is VASP registration and what is its role? Why regulate cryptocurrencies?
Focus on VASP registration and cryptocurrency regulation in this article.  
Created on August 1, 2003, the Autorité des Marchés Financiers (AMF) is responsible for supervising financial markets, protecting and informing individuals about savings and regulating financial transactions. It participates in the harmonization of financial regulations at the European and international levels.
With VASP registration, the AMF aims to protect society by participating in the anti-money laundering and combating the financing of terrorism (AML/CTF).
We, Ilium via the Cruxpool project, ensure that we do not contribute to any of these activities and provide a safe and secure blockchain ecosystem for our users.
You can find us in the official list of PSAN registered companies by the AMF.
By working with regulators like the AMF, we are becoming a major and recognized stakeholder in the French and international blockchain ecosystem.  
What is VASP registration and what is its role?
The VASP registration is a result of the French law n° 2019-486 of May 22, 2019: The PACTE law. This law has evolved following the adoption of ordinance No. 2020-1544 of December 9, 2020, which strengthens the anti-money laundering and combating the financing of terrorism (AML-CFT).
This ordinance extended the registration obligation of the VASP providing digital asset exchange services and digital asset trading platform operations (services 3° and 4° of Article L. 54-10-2 of the Monetary and Financial Code). This same order was completed by Decree 2021-387 of April 2, 2021.
It is Article 86 that established a chapter entitled Digital Asset Service Providers within the Monetary and Financial Code, the pillar of blockchain regulation in France.
The VASP is for all blockchain and cryptocurrency companies that offer:
The custody of digital assets
The purchase or sale of digital assets in legal tender
The exchange of digital assets for other digital assets
Operating a digital asset trading platform
There are several reasons why we are seeking VASP registration at Ilium. First and foremost: the protection of our users. 
Fight against money laundering and illegal activities
Illegal activities and terrorist organizations can use cryptocurrencies to transfer money. Our goal is to prohibit these illegal practices. 
Protection of users, including investors in cryptocurrencies
Since its beginnings, the cryptocurrency industry has gone through some rough times, sometimes as a result of hacks or malicious actors.
One of the most famous hacks is the hacking of the exchange Mt. Gox, founded by Mark Karpelès, during which more than 800,000 Bitcoins were stolen. He was himself suspected in this case.
Development of blockchain and cryptocurrencies more secure
Being registered as VASP promotes the development of blockchain and cryptocurrencies to enable job creation in a more stable and controlled environment. 
What are the benefits of the regulation of cryptocurrencies?
The blockchain and cryptocurrency ecosystem is in its infancy.
Since the appearance of Bitcoin, it is incumbent upon the actors to mobilize to allow everyone to conduct transactions in a healthy and controlled environment in order to avoid abuses. 
On the regulatory side, the blockchain ecosystem obeys unique and counter-intuitive rules.
We can talk about anonymity. Indeed, each actor of a cryptocurrency transaction is represented by a crypto wallet address which corresponds to a sequence of numbers and letters. At first glance, the whole system may seem opaque and does not allow to identify in a traditional way the sender and the receiver of funds. However, each movement on the blockchain is fully traceable and perfectly transparent. It is therefore possible to observe in real time what is happening on the different blockchains, but not to directly or at first sight associate physical or legal entities with their transactions.
From an anti-money laundering and anti-terrorist financing perspective, it is therefore crucial to implement the Know Your Customer (KYC) and the Know Your Transaction (KYT) procedures to be able to supplement the information provided by the network and ensure the security and integrity of everyone, allow individuals in good standing to identify themselves transparently and fraudulent users to be detected.
Without this control ecosystem, blockchain could not gain the trust necessary for adoption.
Questions raised by the regulation of cryptocurrencies
The issue of regulation in the cryptocurrency market is often debated as it seems so far removed from the philosophy of the creator of the first Bitcoin blockchain, Satoshi Nakamoto.
Most users of Web 3.0 technologies are interested in maintaining some freedom over the ownership and use of their funds, while remaining relatively anonymous.
As explained earlier, a partially opaque ecosystem would not be suitable for mass adoption because it would allow malicious actors to attempt to conceal their actions. 
Benefits of the regulation of cryptocurrencies
Regulation at all levels in the blockchain ecosystem increases trust in the various players in the field. Investors and users of the various Web 3.0 services are protected and new projects and entrepreneurs are supported in a healthier environment.
In general, regulation allows for better information and education of individuals about the characteristics of blockchain and cryptocurrencies.
Creating a legal and regulated environment allows for the creation of new jobs and the maximum exploration of this new technology and the opportunities it offers. 
Start staking : Join the staking pool on Cruxpool
Thanks to the VASP registration it is now possible to join the Cruxpool staking pool!
Staking is open to everyone who wants to participate from 0.01 ETH. 
To stake cryptocurrencies, you need to create a validator on the Ethereum blockchain. This requires a significant minimum investment: technical knowledge and a substantial amount of money to stake. Regarding the minimum investment, Ethereum 2.0 requires a minimum of 32 ETH, as we can see on the Ethereum website.
But there is a simpler way of staking without having to use your own hardware: using a staking pool. A staking pool can be seen as a way to store.
You can contribute to a staking pool by depositing your ETH securely, while earning cryptocurrencies effortlessly.
To learn more, please read our article on what staking is.
Ilium is now officially registered as VASP, a status for all projects that wish to offer digital assets in France. This news is totally in line with our values, in favor of cryptocurrency regulation.
For us, Ilium (Cruxpool), it is important to take into consideration our users and avoid any attempts of malicious actions. We are therefore at your side to offer you various secure and adapted features.
In addition, if you decide to stake with Cruxpool, we are committed to ensuring the integrity of your deposited funds and the interest generated under all circumstances. The confidence granted by the AMF through VASP registration attests to the ability of our infrastructure and staff to offer services of impeccable quality and trust.
Staking is open to all, so do not hesitate to adopt staking at Cruxpool Ilium is now officially registered as VASP, a status for all projects that wish to offer digital assets in France. This news is totally in line with our values, in favor of cryptocurrency regulation. 
You may also be interested in