In this start mining guide, you will learn about Beam and how to mine this cryptocurrency on Cruxpool.
Beam is a scalable and confidential cryptocurrency. The creation of this cryptocurrency comes to the failure of anonymity and the need for confidentiality of Bitcoin. Indeed, the main feature is that users have complete control over privacy because it decides which information will be available for everyone. Transactions are confidential and anonymous, no addresses or information about the sender or the receiver of the transaction are stored in the blockchain.
Like Bitcoin, Beam cryptocurrency has a limited number of coins which is 262.800.000 coins and has periodic halving. The project can be glad to have launched its project without premine or ICO.
To ensure the anonymity and confidentiality of the ecosystem, Beam uses the Mimblewimble protocol.
If you are interested, you can read the white paper of beam. 
Mimblewimble protocol was created in 2016, by an anonymous person who calls himself Tom Elvis Jedusor. The name of the protocol is also the name of enchantment in the Harry Potter books and the pseudonym of the anonymous developer is for Lord Voldemort.
Mimblewimble is ideologically based on Bitcoin protocol that has advantages like scalability, privacy and confidentiality. Confidential transactions are implemented by using a cryptographic commitment scheme that has the properties to hide and bide it. Mimblewimble protocol is used on the Beam blockchain but also in the Grin blockchain.
If you want, you can read the white paper of Mimblewimble. 
Developers have worked on an easy-to-use and official Beam wallet which is available on Beam website. The wallet is available on several platforms like macOS, Windows, Linux, iOS and Android, you can download it here.
The creation of an account is very simple. Launch the wallet and click on Create new wallet. After that, you will have to write down your seed phrase. Be sure to write it down and keep it. Do not share it. Then, you'll need to check your seed phrase by typing the words in the correct order. After this verification, you have to set up a password that must have at least 10 characters with a minimum of one lowercase, uppercase, number. Use a complex password that you can memorize. Try to make it unique, so that it doesn't look like any of your other passwords. After that, your account is created and you can access it.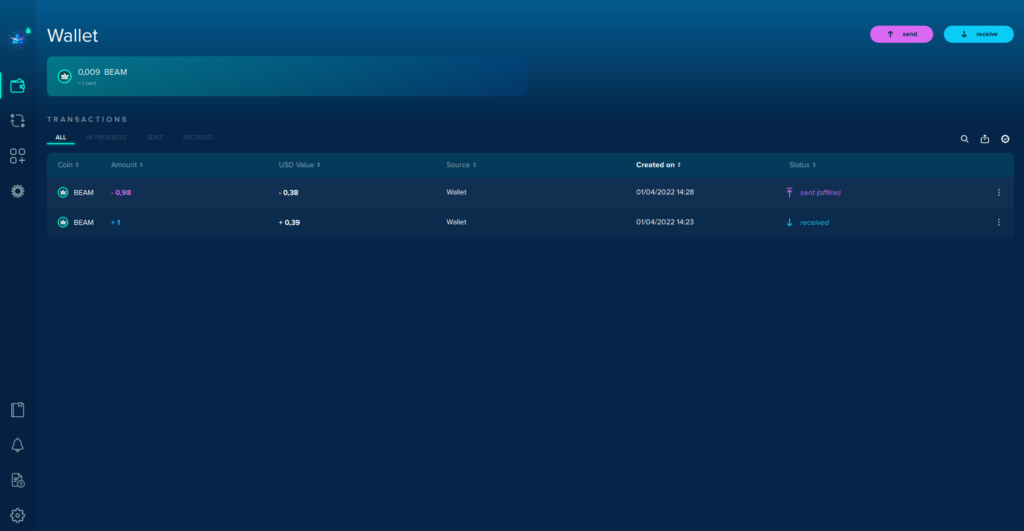 The wallet app enables to send and receive 
Beam coins
. You can also see the wallet in action in taking a small number of Beams from the community faucet.
I
f you want more informat
ion, we invite you to read our tutorial on how to open a Beam wallet.
How to mine Beam on Cruxpool?
Before we will give you the instruction to connect to our pool, it is important to take the time to learn basic knowledge about mining Beam.
It uses Proof-of-Work consensus and it is, of course, miners who supported the blockchain. To secure the network, Beam uses a modified version of Equihash (150,5) proof-of-work mining algorithm called BeamHashIII. Hashrates are expressed in Sol/s.
Its mining is ASIC-resistant and you will be able to mine this cryptocurrency only if you have a minimum 4Gb VRAM graphic card.
Cruxpool provides a Beam mining pool. We use a 1% PPS scheme, and transactions run every 3 hours. The minimum threshold is 1 Beam but by default, your threshold is set to 10 Beam. 

In order to connect your workers to our mining pool, you have to put your address on your mining software.
There are several mining softwares for Beam mining. Here is a list of softwares that you can use for mining this cryptocurrency.
Start mining beam on NiceHash
After registering or logging into your NiceHash account, click on Hashrate Power Marketplace and then on My Pools. Once on the page, click on Add new pool. To set up Cruxpool mining pool on NiceHash, you must fill the following fields in the New pool display.
Custom pool name: Cruxpool Beam
Algorithm: BeamV3
Stratum Hostname or IP: beam.cruxpool.com
Port: 23333
Username: Your wallet address or your username
Password: x