How to use Mining Rig Rentals ?
Do you want to mine cryptocurrencies, but you do not want to deal with a rig or GPUs? It is possible with Mining Rig Rentals!
Mining Rig Rentals is a website that allows you to rent rigs from miners around the world. By exchanging cryptocurrencies, you can access a multitude of rigs that will allow you to start mining without the hassle of buying the equipment you normally need!
In this tutorial you will discover how to use Mining Rig Rentals in order to rent hashrate for your mining with our mining pool, Cruxpool. 

What is Mining Rig Rentals ?
The official website of Mining Rig Rentals is a marketplace specialized in cryptocurrency mining, especially in mining rig rentals (that is why this name!).
This is one of those services that allow you to mine cryptocurrencies without owning any mining equipment.
You can rent machines dedicated to mining, more precisely renting hashrate to mine the cryptocurrency you want.
This is very interesting if you want to get started with cryptocurrency mining!  
Create a Mining Rig Rentals account
First, you need to create an account.
Go to the website and click on "Register".
Choose your username, enter your email address, a password and a PIN code.
Then click on "Create account" and wait for the verification email sent.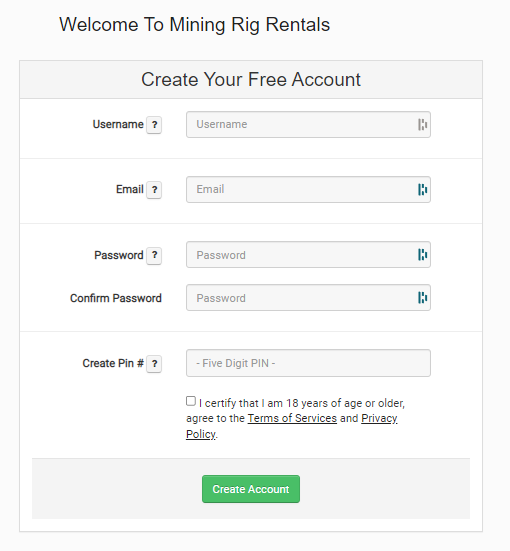 Add funds to your account
To rent hashrate, you need to add money to the marketplace.
To add money, go to your account, more precisely to the "Balance" section. Your balance represents your cryptocurrency funds, allowing you to rent hashrate. You can add funds in cryptocurrencies like Bitcoin, Ethereum, Litecoin and Bitcoin Cash.
Choose the cryptocurrency you want, deposited beforehand on Mining Rig Rentals. To fund your funds, retrieve your address present in "Balance", then on the page dedicated to the corner of your choice. Here we have chosen Ethereum. 

For your information, transactions need only one confirmation by the blockchain to be added to your account.
However, the service may require several verifications if there are changes in the network.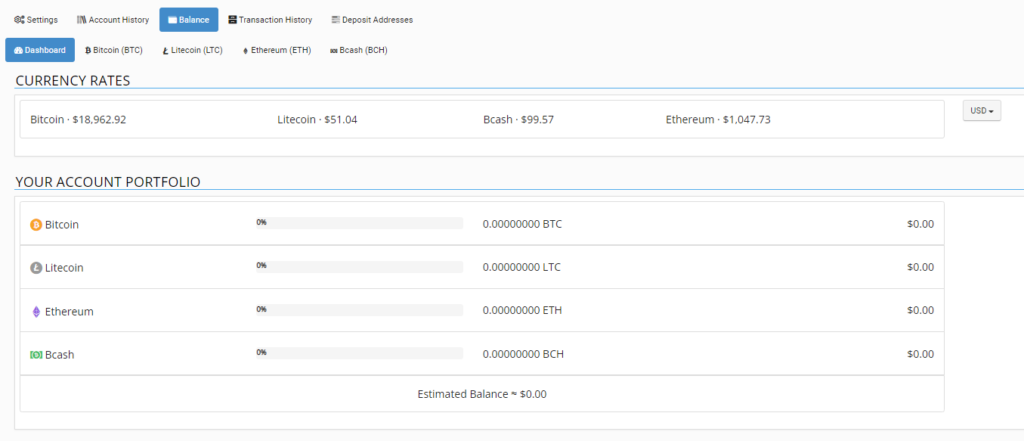 Rent a mining rig on Mining Rig Rentals
Once you have deposited your funds, you can rent and therefore choose the available mining rigs.
To choose a mining rig, you need to click on "Rigs" which is located at the top on the navigation bar or on the left navigation bar and then choose the mining algorithm you want to use.
If you are in doubt, you can discover the different mining algorithms for each cryptocurrency available on the Cruxpool blog: How to start mining?
Otherwise, you can go to the menu and click on "Marketplace". Choose "All markets" to discover all the coins available for rent to mine. We will keep as an example Ethereum, having for mining algorithm Dagger-Hashimoto (Ethash).
We invite you to visit the "Hot markets" section, as it includes the most mined cryptocurrencies. It can be very useful and help you in your choice of hashrate rental:

For example, by clicking on "Ethereum", you will discover the rigs available for rent. 
It is possible to sort by:
RPI (Rig Performance Index): This allows you to see the performance of the mining rig
Country
Hashrate
Rental price
…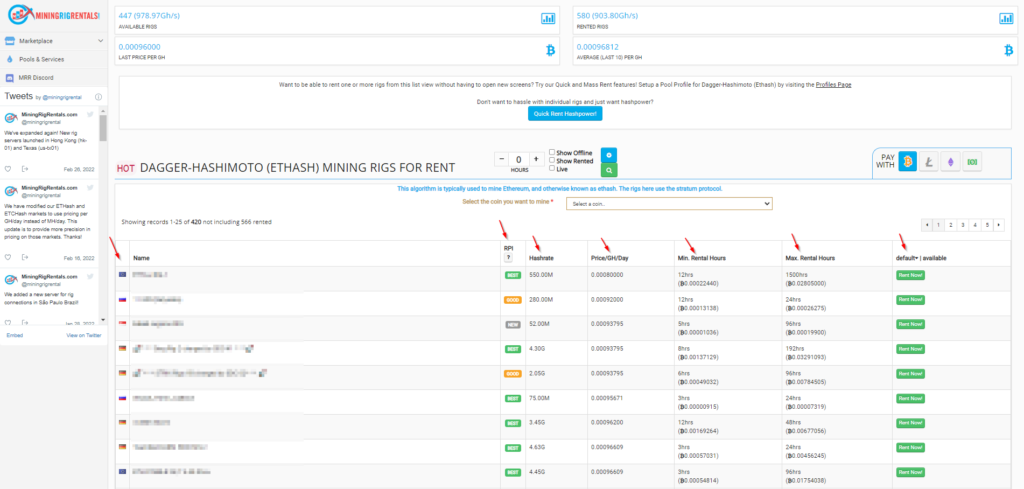 By clicking on the rig of your choice, you have all the information about it, such as the hashrate history. This is where you can also decide to rent the hashrate power by clicking on "Rent Now!".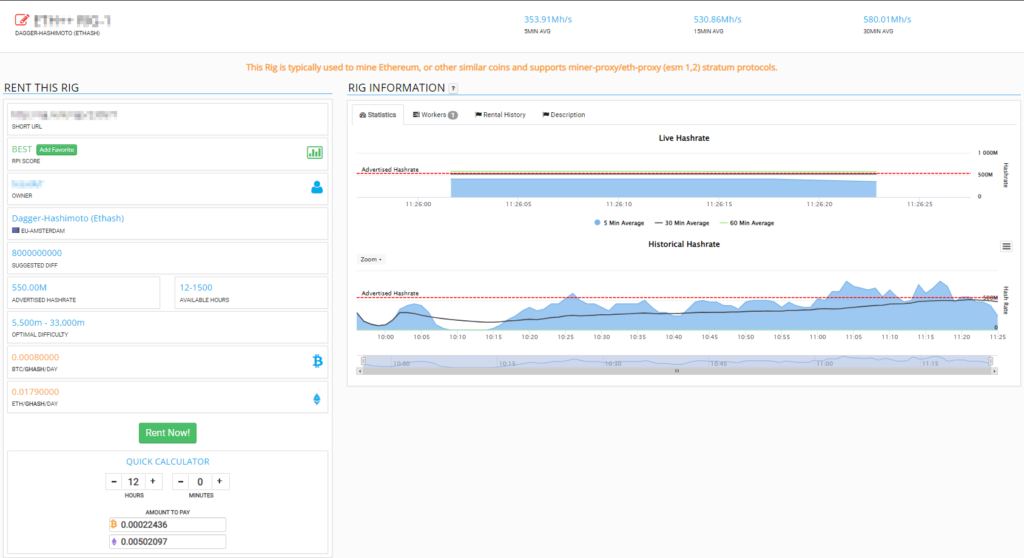 In "Rig information", you can see the workers or the profitability history of the rig.

When you click on "Rent Now!", a window will pop up asking you for various information. 
This is where you can enter features: rental time, price and estimated Mh.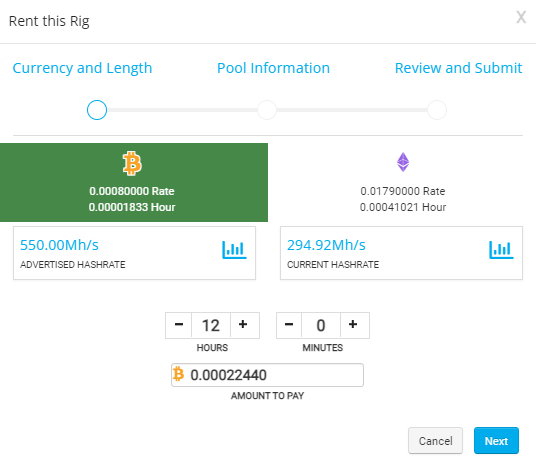 Then, in "Pool information", you must indicate the information of your mining pool.
You have to put the pool host (the mining pool address with the port), the worker name (your crypto wallet address), the password and the eworker (the name you want to give to your worker).
In the case of Cruxpool, you can go to our page dedicated to Cruxpool servers to choose the desired network according to the cryptocurrency.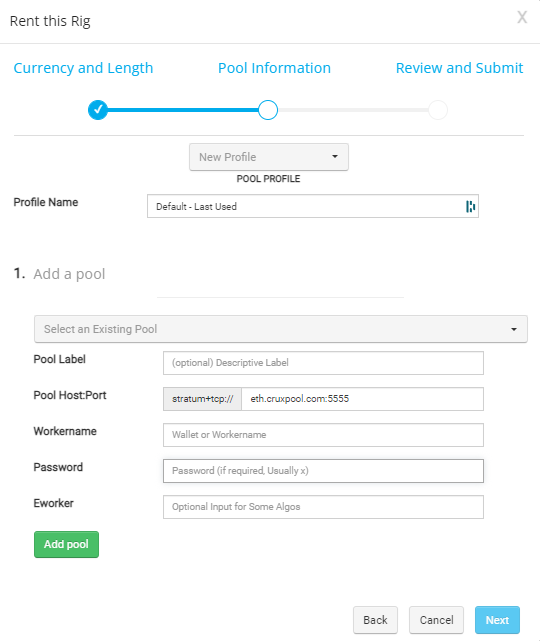 In "Review and Submit", you have a summary of your rig rental.
Monitor the activity of your rig rental
On Cruxpool you can monitor your rental activity on your dashboard, but you can also go to Mining Rig Rentals and see your stats about your mining such as the time left on your rental. 
That's it, you know how to mine with Mining Rig Rentals!
As you can see, this is a very useful marketplace for people who want to learn how to mine cryptocurrencies without spending a lot of money, or simply for those who do not want to bother with mining equipment.
If you have any other questions, feel free to join us on Discord.
Happy mining on Cruxpool!