How to use ZelCore crypto wallet?
Do you know ZelCore? The multi-chain crypto wallet proposed by the Flux project. As a reminder, Flux is a cryptocurrency known for the decentralization and adaptability it offers with all blockchains.
Do you want to install and use ZelCore as a crypto wallet? In this tutorial, we will introduce you to this wallet and go through the different actions.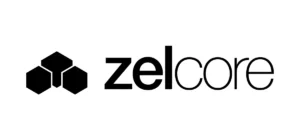 ZelCore is a crypto wallet born from the Flux project. It has many features: making swaps, buying cryptocurrencies… This crypto wallet is multi-chain because it has the ability to connect with different blockchains.
There is a paid version of the wallet: ZelCore+. Available via a monthly subscription at $4, it offers more features such as full exchange or a portfolio tracker.
The crypto wallet is compatible with several CEXs (KuCoin, FTX, Gemini, Gate.io, etc.) and DEXs (Coinbase Pro, Binance, Kraken, etc.). It also has various integrated applications such as Fusion, Purchase and FluxNodes: 
Fusion is a bridge that allows users to send Flux on different blockchains such as Kadena, Polygon, Ethereum, Binance Smart Chain, Tron or Solana. More than 1000 tokens are available on different blockchains, allowing ZelCore to deposit parallel assets.
Purchase allows users to quickly purchase multiple assets with a credit card that are deposited directly to the specified Flux address.

FluxNodes allows you to manage all the Flux nodes you host

. Using the application, it is possible to view the composition of nodes worldwide using a real-time map.

The crypto wallet was created to offer users protection and control over their cryptocurrencies. It is a non-custodial wallet that allows users to have their own private and public keys in an environment secured by the 2FA security system.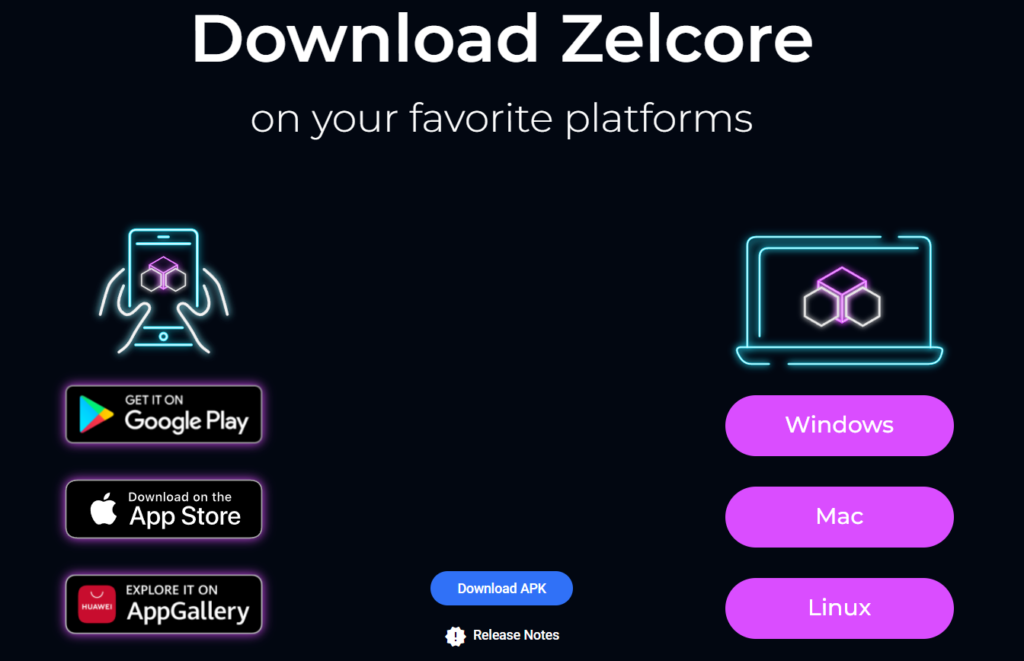 After selecting your OS, save, store and install the software on your computer.
You can launch the Flux crypto wallet application!  
How to create a ZelCore account?
Once the crypto wallet is installed, you need to create a ZelCore account.
Click on "Sync/Register Account on this Device" and provide a username and password. Choose a strong and unique password to secure your account.
Do not use a username or password from another account you have (bank account, social media, etc.). If one of your other services is hacked, your account information can be easily found.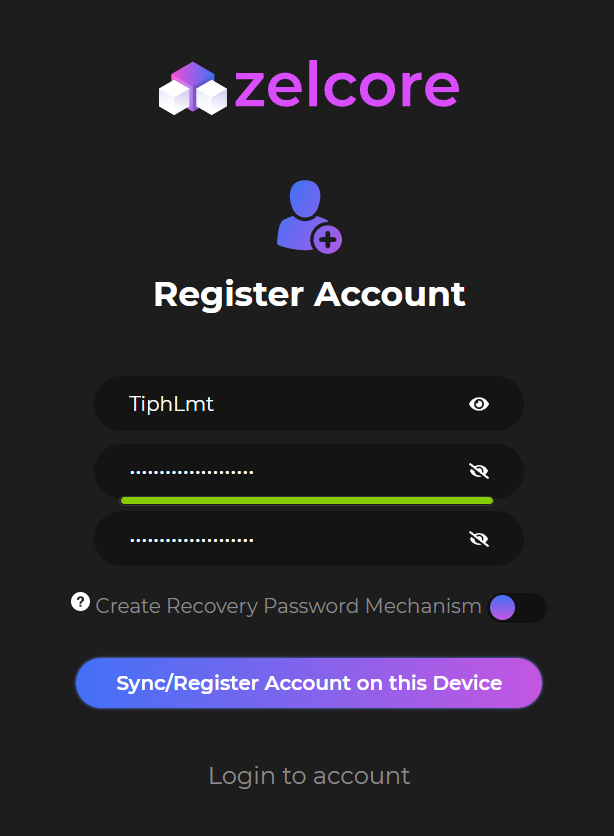 Do not forget to write down your username and password on a piece of paper. This paper should be kept in a safe place.
You can also enable password recovery by selecting as many questions and answers as you want.
Usually, your account is activated and you have access to the features of the crypto wallet!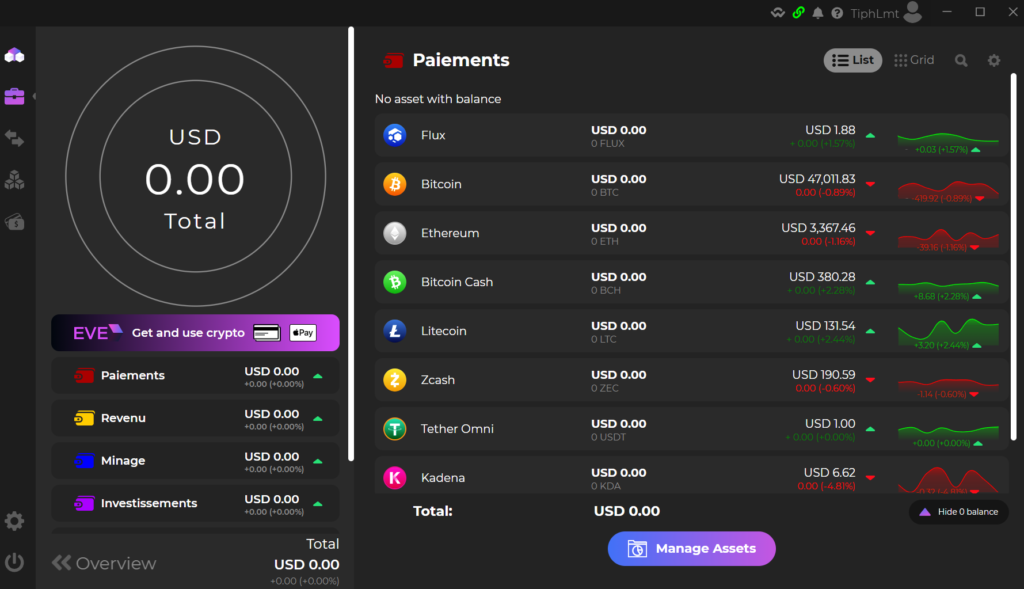 How to mine Flux with ZelCore?
If you want to mine cryptocurrency Flux, you can use ZelCore to withdraw your digital assets.
You need to find the Flux address to use in the crypto wallet to mine. To do this, go to the "Portfolio" section in the menu. You will see a page displaying a number of automatically generated wallets. Choose "Mining".
After that, add Flux as a currency to support in the crypto wallet. Click on "Manage Assets", then "Add assets". Look for and select "Flux (FLUX)" from the list.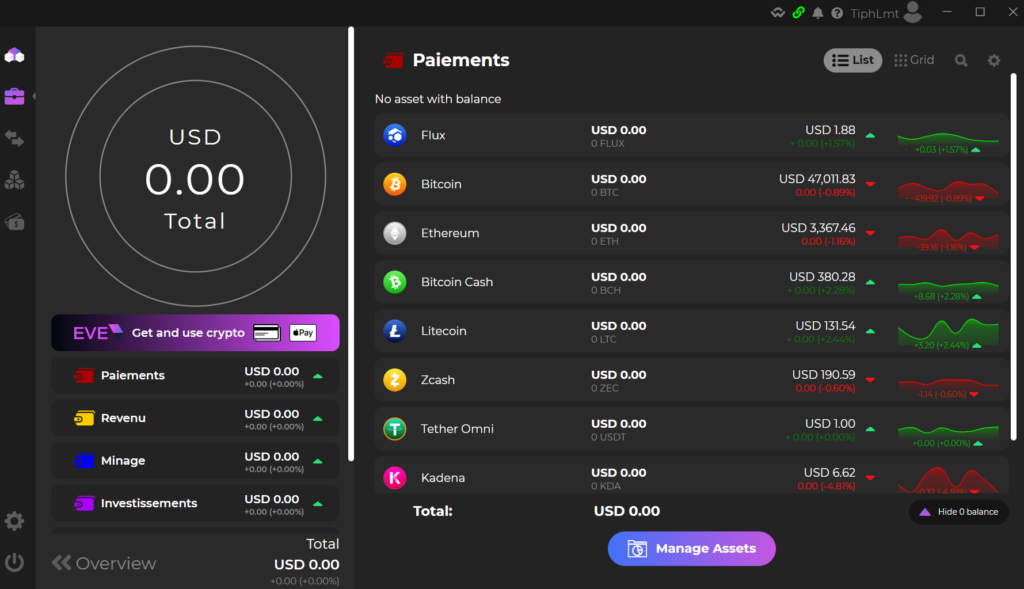 Now that you have added Flux to your wallet, click on "Flux" on your assets page. Select "Receive" from the menu that appears and you will see a QR code with your address underneath.
Save your address to add it to your script in your mining software and/or tell it to your mining pool.
Furthermore, our mining pool allows you to mine Flux as well as other cryptocurrencies, so do not hesitate to join Cruxpool!
Of course, you can mine other cryptocurrencies using the ZelCore crypto wallet in order to recover your assets. If you want to mine, check out our tutorial on how to mine Flux with Cruxpool!
How to send and receive crypto assets?
With ZelCore, you can quickly send and receive cryptocurrencies, stablecoins or even digital gift cards. 
To send cryptocurrencies, select the asset you want to send from the main screen. For example, to send the cryptocurrency Flux, select "Flux".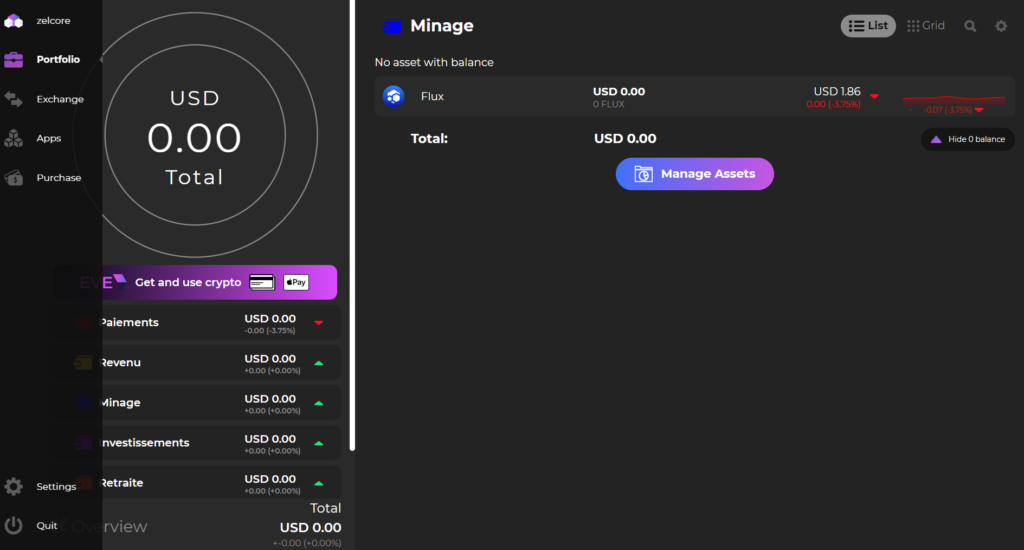 On the crypto wallet screen, click on the "Send" button. Then, type in the address to which you are sending an amount and the transaction fee.
Note that you can create contacts on ZelCore to easily find the people to whom you send assets! Just click on the tab next to "Choose contact".
Then select the "Send" button. ZelCore will ask you to confirm the send for security reasons, so you will need to select "Send" again to confirm the transfer.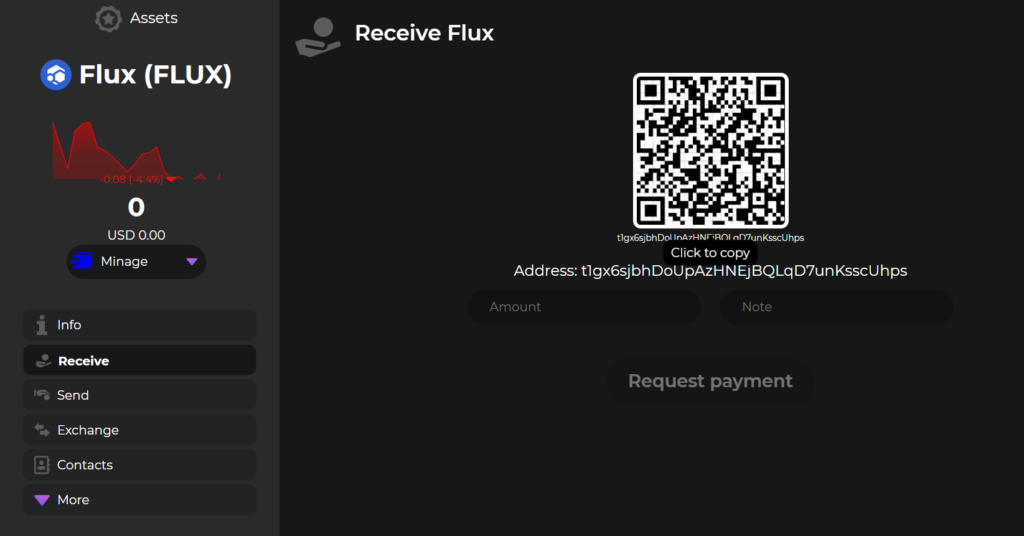 On the portfolio screen, you should see your action appear in the transaction history.
To receive cryptocurrencies, select "Receive" from the wallet screen. Note that we always use the Flux cryptocurrency as an example.
Usually, your public address is displayed for this asset. It is accompanied by a QR code.
You can click on the address to copy it and send it to someone. Alternatively, the sender can also scan your QR code.

Once the sender has completed the transaction, your transfer will be visible on the crypto wallet screen in the transaction history.
How to exchange cryptocurrencies via ZelCore?
You can exchange cryptocurrencies via the ZelCore wallet. To do this, go to the crypto wallet menu, to the "Exchange" section and click on "QuickSwap".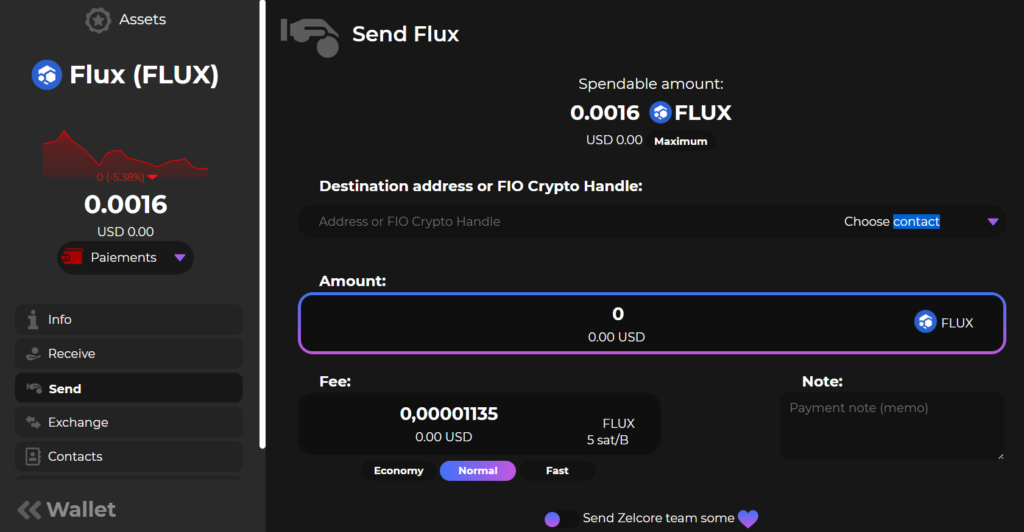 Then, choose which cryptocurrency you want to swap for another. Then click on "Swap!".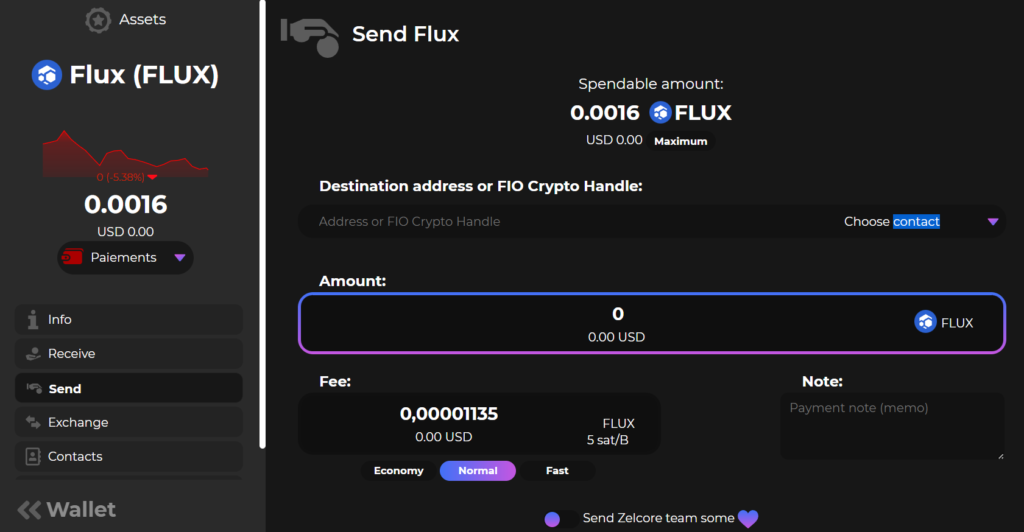 How to buy cryptocurrencies with ZelCore?
You can buy cryptocurrencies with fiat money on the Flux crypto wallet.
In the menu, click on "Purchase" and fill out the form. 
You need to fill in your country, the cryptocurrency you want to buy and your wallet address. Then, ZelCore will ask you for your bank details to make the purchase safely.
We have taken a look at how to use the ZelCore crypto wallet. It is a very complete multi-chain wallet, which allows you to store, exchange, send, receive and buy cryptocurrencies. Moreover, ZelCore is not only dedicated to Flux cryptocurrency, but to a multitude of cryptocurrencies (Cardano, Firo, Ethereum, etc.)!
If you want to mine using the ZelCore wallet, check out our tutorial on how to mine Flux with Cruxpool!