How to mine Ethereum Classic?
Ethereum Classic Starting Guide
With The Merge, it is only natural to look to new cryptocurrencies to mine. Naturally, many miners are turning to Ethereum Classic. In this tutorial, we will introduce you to mining Ethereum Classic.
How to mine Ethereum Classic using a GPU, How to mine Ethereum Classic using an Antminer E9 Pro Asic ? What exactly is this cryptocurrency? Your questions will be answered in our Ethereum Classic guide! 
What is Ethereum Classic?
Ethereum Classic was born around the time of the DAO Fork in 2016. DAO was the first major digital depository application (DApp) to launch on Ethereum and held a significant share of total ETH. It was hacked and the community debated for a month about what to do.
The majority of node operators chose the hard fork and this forked version was recognized as Ethereum and all the funds that the Ethereum Foundation held. The continuation of the original blockchain was called Ethereum Classic.
For more information about the Ethereum Classic project, you can read the Ethereum Classic's white paper.
It is interesting to mine Ethereum Classic. This cryptocurrency can be explained as Ethereum technology with Bitcoin philosophy, according to Bob Summerwill, the executive director of the Ethereum Classic cooperative.
"If you're looking for programmable digital gold, with a fixed issuance schedule, where security and immutability are more important than scalability, then Ethereum Classic is for you," Bob Summerwill tells us.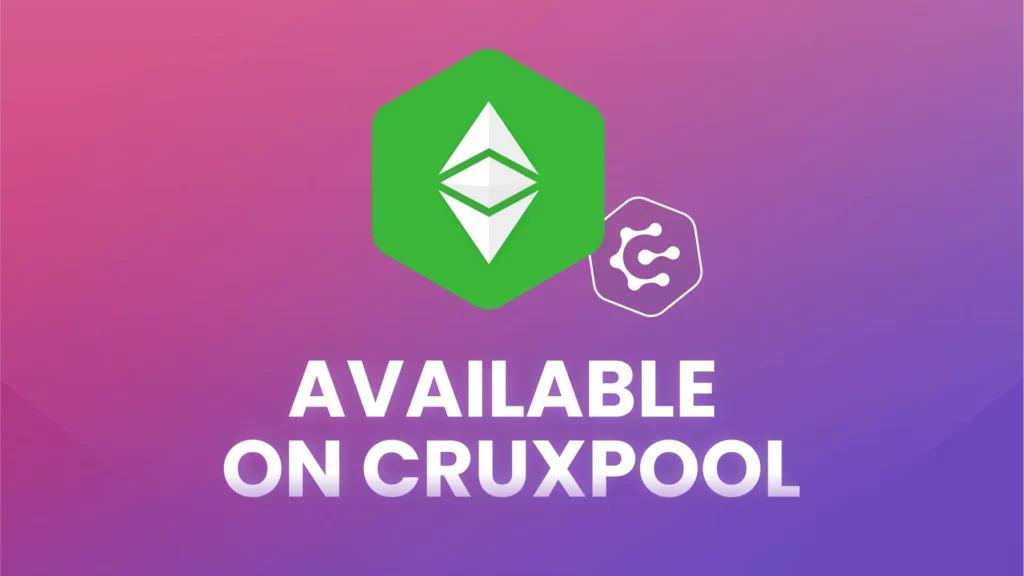 Open a crypto wallet for Ethereal Classic
In order to mine Ethereum Classic, you have to open a crypto wallet that can contain Ethereum Classic. There are several third-party wallets that can store, receive and send Ethereum Classic.
If you want, we have tutorials to learn how to use Exodus Wallet or how to use ZelCore Wallet. 
Mine Ethereum Classic on Cruxpool
Before we give you the instruction to connect to our Ethereum Classic mining pool, it is essential to share with us basic knowledge about the Ethereum Classic mining.
Ethereum Classic uses a Proof of Work system, and it is miners who support the blockchain. The mining algorithm of Ethereum Classic is Etchash.
You will be able to mine Ethereum Classic only if you have a minimum 3GB VRAM GPUs.
Plus, Cruxpool uses a 1% PPS scheme and transactions run every 3 hours. The minimum threshold is 0.1 ETC and the maximum is 100 ETC. 
Download a mining software like lolMiner
There are several mining softwares for Ethereum Classic mining like lolMiner. 
lolMiner is a mining software with 0.7% fees, available on Linux and Windows for NVIDIA and AMD GPUs.
You can download lolMiner on GitHub.
For Windows, you should choose the zip file. For Linux, it is the tar.gz file.
You must then extract the file. 
Set up lolMiner to mine Ethereum Classic on Cruxpool
Now we can start mining Ethereum Classic on Cruxpool!
You need to choose the right script file for mining with Cruxpool.
Copy and paste an existing file to create a new text file that you will name for example "ETC-Cruxpool.bat".
It is a batch file – .bat – if you are on Windows or a bash file – .sh – if you are on Linux.
Warning: If you have saved a new text file on -.txt-, you must change this extension to -.bat- for Windows ou -.sh- for Linux.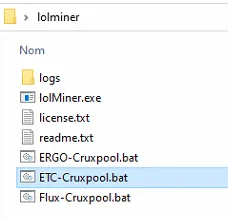 Edit the mining file and fill it with your crypto wallet address, the name of your worker and the Cruxpool mining URL.
Your command line should look something like this, but with a wallet address and a worker name:

Ethereum Classic mining on HiveOS
With HiveOS, you can mine Ethereum Classic without using a command line, but by filling in a template with the mining information.
You should create a new template in "Flight Sheets".
Do not forget to add a crypto wallet before in "Wallets", which will allow you to receive your earnings. Alternatively, you can specify a Cruxpool username instead of a crypto wallet.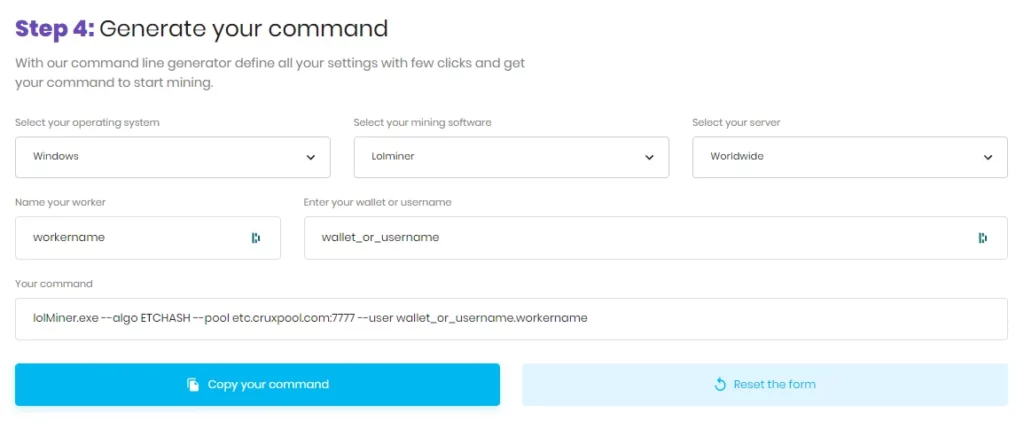 Click on "Create Flight Sheet".
In "Workers", assign the flight sheet to your worker. You can launch it.

You mine Ethereum Classic on HiveOS, congratulations! 
That is it, our guide to ethereum classic is finished. Mining Ethereum Classic has never been easier.
Do not hesitate to go further by discovering our article about the overclocking of GPUs.
If you want, you can join us on our Telegram or on our Discord.
Happy mining on Cruxpool! 
How to mine Ethereum Classic ETC using an Antminer E9 Pro Asic